PTTG: an important target gene for ovarian cancer therapy
Journal of Ovarian Research
2008
1:6
Received: 16 September 2008
Accepted: 20 October 2008
Published: 20 October 2008
Abstract
Pituitary tumor transforming gene (PTTG), also known as securin is an important gene involved in many biological functions including inhibition of sister chromatid separation, DNA repair, organ development, and expression and secretion of angiogenic and metastatic factors. Proliferating cancer cells and most tumors express high levels of PTTG. Overexpression of PTTG in vitro induces cellular transformation and development of tumors in nude mice. The PTTG expression levels have been correlated with tumor progression, invasion, and metastasis. Recent studies show that down regulation of PTTG in tumor cell lines and tumors in vivo results in suppression of tumor growth, suggesting its important role in tumorigenesis. In this review, we focus on PTTG structure, sub-cellular distribution, cellular functions, and role in tumor progression with suggestions on possible exploration of this gene for cancer therapy.
Keywords
Vascular Endothelial Growth FactorOvarian Surface EpitheliumPituitary Tumor Transforming GeneOvarian Surface Epithelium CellSister Chromatid Separation
Introduction
Although death from ovarian cancer (OCA) ranks fifth in prevalence, it is the most deadliest among gynecological malignancies. Early diagnosis is essential for preventing OCA fatalities. Treatment options for OCA typically include surgery and chemotherapy. The goal of surgery is to remove most of the cancerous growth. However, depending on the stage of the cancer, some cancer cells may remain following surgery. To eliminate these remaining cells, various adjuvant chemotherapy strategies are employed based on cancer stage, tumor grade, and other health concerns. While effective, chemotherapy treatments are accompanied by undesirable side effects rising from the targeting of rapidly dividing cells, which is a hallmark trait of cancer cells. In this process, healthy cells that also rapidly divide such as blood cells and cells lining the mouth and GI tract are also damaged. To reduce such side effects and increase cellular specificity, a targeted cancer therapy for OCA is necessary that pinpoints etiological characteristics other than high cellular metabolic rate. The major drawback in understanding the etiology of OCA is the availability of an appropriate OCA model. Many laboratories have initiated the development of OCA transgenic mice models. However, to date, there is no report of having an efficient transgenic mouse model to study the mechanism of ovarian tumorigenesis [1–6].
Pituitary tumor transforming gene (PTTG) is an oncogene involved in cell cycle regulation and sister chromatid separation. PTTG is highly expressed in various tumors including ovarian, suggesting that PTTG may function in ovarian tumorigenesis. Initially, PTTG was cloned from rat pituitary tumor and shown to induce cellular transformation in vitro and tumor development in nude mice [7]. The expression level of this gene was also found in germ, Leyding, and sertoil cells in testis [8]. Subsequently, the human homologue of PTTG was identified and shown to be overexpressed in Jurkat T cells and leukocytes from patients with myelodysplastic syndromes [9]. Zou et al. [10] identified PTTG as the human securin, which is an important protein for the inactivation of separases and thereby keeps the sister chromatids intact until the onset of anaphase. Extensive research on this gene was performed by many investigators in relation to its overexpression in several endocrine-related tumors including pituitary, thyroid, breast, ovarian, and uterine as well as non-endocrine-related cancers such as pulmonary, gastrointestinal, and those related to the central nervous system [11–19]. The availability of the molecular and functional mechanisms of PTTG and its important role in tumorigenesis in various cancers including OCA is of great interest.
Conclusion
PTTG is an oncogene with multiple domains and multiple functions. It is transcriptionally regulated by various growth factors and is highly expressed in most of the tumors and tumor cell lines analyzed to date. Up regulation of PTTG increases cell proliferation, induces cellular transformation and promotes tumor development in nude mice. On the other hand down regulation of PTTG in cancer results in suppression of tumor growth and angiogenesis, suggesting that PTTG may serve as an important target gene for the treatment of cancer. The molecular mechanism by which PTTG mediates its tumorigenic function is still unclear. The possible mechanism and pathways by which PTTG induces its tumorigenic functions are summarized in Fig.
9
.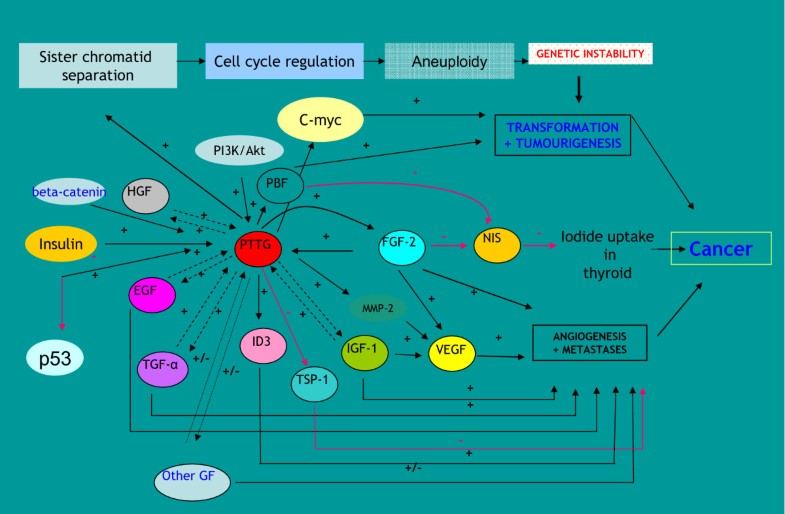 Declarations
Acknowledgements
This work was supported by grants from NIH CA82511 and CA124630 (SSK) and funds from Kentucky lung cancer program (SSK). Authors are thankful to Mr. Andrew Marsh for critical editorial help.
Authors' Affiliations
(1)
Department of Physiology and Biophysics, James Graham Brown Cancer Center, University of Louisville, Louisville, USA
Copyright
© Panguluri et al; licensee BioMed Central Ltd. 2008
This article is published under license to BioMed Central Ltd. This is an Open Access article distributed under the terms of the Creative Commons Attribution License (http://creativecommons.org/licenses/by/2.0), which permits unrestricted use, distribution, and reproduction in any medium, provided the original work is properly cited.