Reinterpretation of evidence advanced for neo- oogenesis in mammals, in terms of a finite oocyte reserve
Journal of Ovarian Research
2011
4:1
Received: 21 October 2010
Accepted: 6 January 2011
Published: 6 January 2011
Abstract
The central tenet of ovarian biology, that the oocyte reserve in adult female mammals is finite, has been challenged over recent years by proponents of neo-oogenesis, who claim that germline stem cells exist in the ovarian surface epithelium or the bone marrow. Currently opinion is divided over these claims, and further scrutiny of the evidence advanced in support of the neo- oogenesis hypothesis is warranted - especially in view of the enormous implications for female fertility and health. This article contributes arguments against the hypothesis, providing alternative explanations for key observations, based on published data. Specifically, DNA synthesis in germ cells in the postnatal mouse ovary is attributed to mitochondrial genome replication, and to DNA repair in oocytes lagging in meiotic progression. Lines purported to consist of germline stem cells are identified as ovarian epithelium or as oogonia, from which cultures have been derived previously. Effects of ovotoxic treatments are found to negate claims for the existence of germline stem cells. And arguments are presented for the misidentification of ovarian somatic cells as de novo oocytes. These clarifications, if correct, undermine the concept that germline stem cells supplement the oocyte quota in the postnatal ovary; and instead comply with the theory of a fixed, unregenerated reserve. It is proposed that acceptance of the neo- oogenesis hypothesis is erroneous, and may effectively impede research in areas of ovarian biology. To illustrate, a novel explanation that is consistent with orthodox theory is provided for the observed restoration of fertility in chemotherapy-treated female mice following bone marrow transplantation, otherwise interpreted by proponents of neo-oogenesis as involving stimulation of endogenous germline stem cells. Instead, it is proposed that the chemotherapeutic regimens induce autoimmunity to ovarian antigens, and that the haematopoietic chimaerism produced by bone marrow transplantation circumvents activation of an autoreactive response, thereby rescuing ovarian function. The suggested mechanism draws from animal models of autoimmune ovarian disease, which implicate dysregulation of T cell regulatory function; and from a surmised role for follicular apoptosis in the provision of ovarian autoantigens, to sustain self-tolerance during homeostasis. This interpretation has direct implications for fertility preservation in women undergoing chemotherapy.
Keywords
Germ CellPrimordial FollicleOvarian Surface EpitheliumSpermatogonial Stem CellGermline Stem Cell
1. Introduction
Since the mid-twentieth century, the prevailing principle in mammalian oocyte biology has been that female reproductive capacity is defined absolutely by the number and quality of primordial follicles having developed in the ovary by the neonatal period [1]. Acceptance of this principle was predicated on empirical evidence: that the mechanism of oocyte formation entails expansion from a relatively small population of primordial germ cells (PGC) in the foetal period, to provide a massive reserve of primordial follicles at birth [2, 3]; and that gradual depletion of that reserve in the adult by atresia and ovulation leads to reproductive senescence and cessation or, specifically in humans, the menopause [4]. The predicted and observed consequence of this theory is that oocytes ovulated later in the reproductive period are of inherently poorer quality due to cellular defects, chromosomal abnormalities and functional deteriorations that accumulate with age [5, 6].
Recent years have seen repeated challenges to this orthodoxy, constituting a revival of the concept of de novo oogenesis in the adult ovary, or neo- oogenesis. The key studies and ensuing discourse are summarised as follows. Diverse groups have purported evidence for neo-oogenesis in mice, from germline stem cells existing specifically in the ovarian epithelium [7–11]. Moreover, claims were made that female germline stem cells originate at a site extraneous to the ovary, namely the bone marrow, and are transported to the ovary via the circulatory system [12, 13]: a scenario that would represent a radical transformation of the established theory of germline specification [2, 3]. The study of Eggan et al. [14], using parabiosis between female mice to demonstrate that ovulated oocytes are not derived from transfused precursors, is significant in countermanding claims for the provision of oocytes via the circulation [12]. But this was in turn refuted by Tilly et al. [15], who deduced evidence for crossengraftment of oocytes supplied from a parabiont, in a robust defense of the neo- oogenesis concept. Abban and Johnson [16] find further support for neo- oogenesis in the derivation of so-called "female germline stem cell" (FGSC) lines by Zou et al. [10]. Pacchiarotti et al. [11] also claim the establishment of ovarian germline stem cell lines, and endorse the neo-oogenesis hypothesis. Meanwhile, cogent arguments were made against the replenishment of oocytes, from statistical analysis of the follicle pool over the reproductive period in mice [17, 18]; and a recent study involving mathematical modelling of the ovarian reserve found no evidence to support the occurrence of neo-oogenesis in humans [19].
To date, a consensus has yet to emerge regarding the validity of neo-oogenesis in relation to adult female mammals, and forthright opinions have been expressed in favour of [13, 15, 16, 20] and against [14, 17, 21–24] the hypothesis. Furthermore, qualified support has been expressed for the occurrence of neo-oogenesis in mice, but not in humans [19]. In another permutation of the hypothesis, germline stem cells exist in adult mouse ovaries but are quiescent under physiological conditions [25], functionally contributing to the oocyte reserve only in response to ovotoxic damage [26].
Thus, the debate continues and a consensus has yet to emerge. Further scrutiny of the evidence advanced in support of the
neo-
oogenesis hypothesis therefore is warranted - particularly in view of the enormous implications it holds for female fertility and health. Moreover, establishing the mechanism of oocyte allocation is fundamentally important to developmental, comparative and reproductive biology. This article contributes arguments against
neo
-oogenesis, revisiting underlying assumptions and providing alternative explanations (summarised in Table
1
) for observations advanced - and maintained - as key by advocates of the hypothesis, adding to the considerable body of criticisms already levied. If the
neo-
oogenesis hypothesis is incorrect, an alternative explanation is required for a significant finding made by its proponents: the restoration of fertility by bone marrow transplantation (BMT) to chemotherapy (CT) treated mice.
Table 1
Key observations advanced in support of neo-oogenesis in mammals, and proposed alternative explanations.
Section

Observation

Interpretation by proponents of neo- oogenesis

Alternative explanation consistent with a fixed

oocyte reserve.

2.(i)

BrdU-incorporation in Mvh+ germ cells located in the OSE

Mitosis in germline stem

cells.

MtDNA synthesis, and DNA recombination and repair in tardy oocytes, in the neonatal ovary.

Existence of a germinal epithelium.

Oocytes in transit across the OSE during exfoliation [54].

2.(ii)

"Oocyte-like" phenotype of cells in OSE-derived cultures [8, 9].

De novo formation of immature and secondary ocytes from stem cells.

Nondescript cells undergoing oncosis.

Small, round cells, above and below the OSE [9].

Putative female germline stem cells.

Small immune cells in the OSE [54].

"Embryoid body-like" and "blastocyst-like" structures [9] in OSE-derived cultures.

Pathenogenetic activation of de novo oocytes.

Nondescript cellular aggregates, and vesicles of OSE.

Expression of Oct4, Sox2, Nanog and c-kit by OSE derivatives [9].

Embryonic-like, germline stem cells.

Cultures containing regenerative epithelium [58].

Cell lines producing early oocytes [11].

Female germline stem cell lines.

Mixed cultures of OSE, early oocytes and/or oogonia.

2.(iii)

BU-induced depletion of the follicle pool [7, 15] and extinction of fertility.

Destruction of replicative, female germline stem cells by BU treatment, without atresia.

Induction of oocyte atresia by BU treatment; and proof of absence of female germline stem cells.

2.(iv)

EGFP+ cells with germ-cell markers in ovaries of CT-treated mice following BMT or PBCT [12, 13].

De novo oocytes from bone marrow-derived precursors.

Oct4-expressing macrophages; and autofluorescent, somatic cells of the ovary.

Presence of PGC and HSC in extraembryonic regions during early post-implantation development [12].

Incorporation of oocyte precursors within the haematopoietic system.

Distinct temporal and spatial niches for the origins and migration of germinal and haematopoietic lineages.

2.(v)

Replicative, unipotent oocyte-like cells [10].

Existence of female germline stem cells.

Residual oogonia induced to proliferate by specified culture conditions, and expansion of populations of functional oogonia.

Immuno-magnetic isolation of Mvh+ proliferating cells from disaggregated ovaries [10].

Selective purification of stem cells via Mvh binding to anti-Mvh antibody.

Harvesting of oogonia and primary oocytes due to Mvh binding to anti-Mvh antibody, or to Fc receptors on the plasma membrane of oogonia and oocytes binding to Fc moiety of antibody.

3.

Restoration of the host follicle pool in CT-treated mice following BMT [12, 13].

Stimulation of endogeneous, de novo oogenesis.

Induction of autoimmunity to ovarian antigens by CT; and rescue of fertility via tolerance restored by haematopoietic chimaerism.
2. Evidence advanced for neo- oogenesis
3. Neo-oogenesis versus classical theory: accounting for fertility preservation, post CT-induced ovarian failure, by BMT
So far, alternative explanations have been presented for main observations advanced in support of neo- oogenesis, leading to the proposition that the hypothesis is erroneous and may lead to false directions for the preservation of female fertility. This is illustrated by a significant observation made by Johnson et al. [12] and Lee et al. [13] in adult female mice subjected to ovotoxic CT: BMT to these mice resulted in restoration of follicle production, compared with continued sterility in CT-treated mice not receiving BMT. Johnson et al. [12] and Lee et al. [13] regard this observation as validating their contention that a reservoir of germline stem cells exists in the bone marrow, so that BMT reinstates host neo- oogenesis by delivery of oocyte precursors. However, the observation of Johnson et al. [12] and Lee et al. [13] may be interpreted differently, in accordance with a fixed oocyte reserve [1]. This alternative explanation draws on currently proposed mechanisms of autoimmune ovarian failure to suggest a protective effect of BMT on resident oocytes, which possibility previously was discounted [13].
A series of events is posited to occur during the experimental manipulations [
12
,
13
], illustrated in Figure
2
:
(A)
maintenance of self-tolerance to ovarian antigens during homeostasis;
(B)
after ovotoxic CT, induction of apoptosis in follicular cells leading to failure of tolerance, induction of autoimmunity against ovarian antigens, and subsequent destruction of surviving follicles; and
(C)
after BMT and establishment of haematopoietic chimaerism, restoration of tolerance and resumption of development of surviving follicles. Evidence for these events is now considered in detail.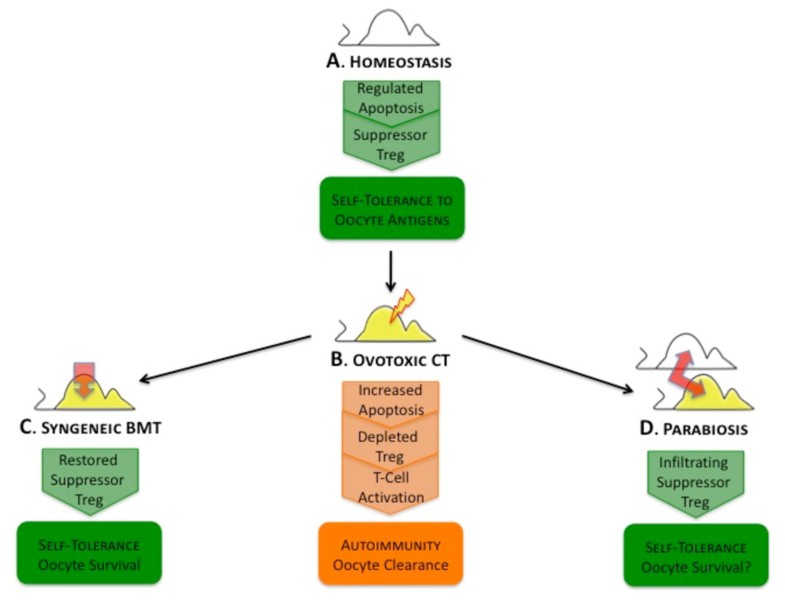 (A) Self tolerance in the steady state ovary
It has been amply demonstrated in mouse models that during homeostasis there predominates self-tolerance to ovarian antigens, sustained by a mechanism dependent specifically on regulatory T cells (Treg). (Treg, either thymus derived or produced by activation of naïve T cells, function to suppress activation of T, B and NK cells.) In the steady-state ovary, atretic follicles contain degenerating ooyctes that are the targets of autoreactive CD4+ T cells [126]. Concurrently, ovarian antigens continuously stimulate Treg in the regional lymph nodes to maintain self-tolerance [127, 128]. Autoimmune ovarian disease (AOD) results from loss of functional Treg, e.g. by thymectomy or iatrogenic effects, so that self-tolerance is converted into an active T cell response [128–130]. In their study of AOD in the thymectomised mouse model, Wheeler et al. [128] further demonstrated that ovarian antigen-specific Treg are capacitated by autoantigen exposure within regional, draining lymph nodes; and that AOD development can be abrogated in the thymectomised recipients by transfer of Treg from the lymph nodes of normal female donors. This Treg-based mechanism may be directly relevant to the studies under consideration here [12, 13].
(B) Effects of CT treatment - induction of autoimmunity
The CT combination of cyclophosphamide (CY) and BU causes catastrophic damage to oocytes and ovarian failure [12, 13], and is likely to increase apoptosis, which functions normally to promote oocyte clearance and tissue remodelling. According to current thinking, efficient apoptosis provides a safeguard against autoimmunity. But a high burden of apoptosis is strongly implicated in the development of the autoimmune state, by cellular spillage or increased exposure of the immune system to autoantigens [131]. By this reasoning, CT would serve as a trigger for autoimmunity in the ovary, whereby the load of apoptotic cells may exceed the clearance capacity of macrophages and/or dendritic cells.
Cyclophosphamide (CY), the chemotherapeutic alkylating agent used in combination with BU as an ovotoxic agent [12, 13], constitutes possibly an additional trigger for autoimmunity. CY has established immune-enhancing effects, involving both the stimulatory and suppressive arms of adaptive immunity: CY treatment augments effector T-cell stimulation, while selectively depleting Treg numbers and function [132]. These actions of CY are achieved by alteration of subsets of dendritic cells in lymphoid tissue, which normally maintain peripheral tolerance via Treg activation [133].
In a highly relevant study that used the non-obese diabetic (NOD) mouse model, Brode et al. [132] demonstrated the potential of Treg to abrogate organ-specific autoimmunity, and deduced the existence of a temporal window between disease induction and development of an autoreactive T cell response during which suppression would be effective. A single injection of CY induced onset of the autoimmune syndrome, type 1 diabetes (T1D), which was synchronous with selective reduction in Treg in lymph nodes through apoptosis, and with reduced suppressive capacity of Treg in vitro. Furthermore, the ensuing autoreactive T cell response could be suppressed, and development of T1D abrogated, by transfer of antigen-specific Treg from a non-diabetic, syngeneic donor to CY-treated, NOD recipients - provided that Treg were received between 1 and 8 d after CY treatment. Thereafter, the developing autoreactive T cell response predominated. A mechanism was proposed for the action of CY, whereby an imbalance created between CD4+CD25- T cells and Treg leads to priming of autoreactive T cells and development of autoimmunity. (Normally, interaction of Treg with dendritic cells within lymph nodes suppresses the priming of naïve autoreactive T cells.)
A mechanism is therefore proposed from (A) and (B) for the studies considered [12, 13], by which CT treatment induced ovarian failure and apoptosis, and caused depletion of ovarian antigen-specific Treg, thereby promoting activation of effector T cells and inducing autoimmunity to ovarian antigens. A proportion of oocytes may have survived, but a switch from self-tolerance to intolerance caused these to be eventually cleared. It is in keeping with this hypothesis that autoimmune premature ovarian failure in humans is characterised by inflammatory infiltration into developing follicles and the production of anti-ovarian autoantibodies, while primordial follicles are spared [134–136]. Also, immunosuppressive, corticosteroid therapy may lead to resumption of menses in women with autoimmune oophoritis with secondary amenorrhea [136].
(C) Restoration of tolerance
In mouse models, reconstitution of the immuno-haematopoietic system by BMT or transfer of HSC attenuates autoimmunity and may achieve disease remission (reviewed by Kaminitz et al. [137]). The mechanism of such modulation may involve resetting immune homeostasis [138–140] or reversal of spontaneous autoimmunity, for example by clonal deletion, anergy, or suppression [137, 141]. In the proposed scenario of the ovary with developing autoimmunity to ovarian antigens following CT (A, B), immuno-modulation would be restored by the haematopoietic chimaerism induced by syngeneic BMT, with resumption of self-tolerance. And it is suggested that the specific tolerogenic mechanism would involve restoration of suppressive Treg function by BMT, either from donor stem cells developing in the recipient's thymus, or from bone marrow acting as a natural reservoir for homeostatic trafficking of functional, activated Treg [142]. The transient immunosuppressive and lymphopenic effect of CY [143], given in combination with BU as ovotoxic treatment, also would provide a niche for homeostatic expansion of Treg following BMT [130]. Consequently, remaining primordial follicles would grow and reach ovulation, rather than be cleared as in control, CT-treated mice not receiving BMT.
Returning to the study of Lee et al. [13], several observations can now be reinterpreted:
(i) Beneficial effects on fertility are attenuated when BMT is postponed from 1 week to 2 months following CT. This can be explained by the priming of an autoreactive T cell response after 1 week, in accord with Brode et al. [132] (see (B), above). BMT at 2 months is ineffective, and there is progressive destruction of the surviving oocyte reserve by immune clearance.
(ii) Postponement of mating after CT and BMT by two months versus 1 week results in decreased fertility. This can be explained by exhaustion of the surviving oocyte reserve in the 2-month interim period by oestrus cycling (occurring every 3-5 days), compared with the suspension of oestrus cycling during consecutive pregnancies.
This line of reasoning also may account for the observations of Johnson et al. [12] with Atm-/- mice. Although ovaries of mutant females are described as devoid of oocytes and developing follicles [12], evidence exists for the persistence of residual germ cells: rare and abnormal oocytes were recorded in Atm-/- mice that were 20 days old [144], and between 17 and 29 days old [145]. This accords with the observation of Johnson et al. [12] of low-level, germ cell-specific gene expression (Oct4, Mvh, Dazl and Stella) in ovaries from adult Atm-/- mice. Crucially, Johnson et al. [12] noted that, following ovotoxic CT and BMT, ovaries from Atm-/- mice contained a small number (maximum, 25) of follicles at 2 and 11.5 months after BMT, while non-transplanted mice did not. It is suggested here that ovarian failure caused by Atm-deficiency also may induce autoimmunity to ovarian antigens, resulting in clearance of those rare, residual oocytes. Thus, BMT to Atm-/- mice would restore tolerance, allowing those surviving oocytes to develop to antral stages [12].
This hypothesis of CT-induced autoimmunity and its suppression by immune-cell transfer gives a prediction for the system of Eggan et al. [14], where female mice were subjected to CT (with BU and CY) and 1 d later were connected parabiotically to untreated partners, to provide a shared circulatory system. In this case, the priming of an ovarian autoreactive T cell response in the CT-treated mouse would be suppressed by functional, ovarian antigen-specific Treg transfusing from the untreated partner, thereby imposing a state of dominant self-tolerance in both parabionts (Figure 2D). That Eggan et al. [14] found no evidence for restoration of fertility in the CT-treated mice by parabiosis, nor in CT-treated (non-parabiotic) mice by BMT, most likely reflects their use of superovulation as the measure of ovarian function. (The technique was used primarily to harvest large numbers of oocytes, to ascertain any contribution of blood-derived precursors to neo- oogenesis.) However, there is inherent variance in the superovulatory response in mice (which is apparent in the data presented), and a dependence of superovulation on the instantaneous number of hormonally responsive, antral follicles. Consequently, the superovulated yield would not reflect the size of the primordial and growing follicle pool - especially when these are close to exhaustion following CT. Therefore, superovulation would not provide an accurate indicator of long-term fertility. The measures taken by Johnson et al. [12] and Lee et al. [13] to assess fertility are more effective, analysing total numbers of non-atretic immature follicles per ovary, and recording live-birth pregnancies over time, respectively.
To paraphrase Oktay and Oktem [146], further investigation is needed into the mechanism of rescue of fertility in CT treated females by BMT. Establishing the validity or otherwise of the neo- oogenesis concept is crucial to understanding germinal function, and to preserving fertility. The proposed involvement of the immune system may, on the other hand, offer possibilities for preserving ovarian function in women undergoing CT, and for treatment of AOD and primary ovarian insufficiency, e.g. by Treg-based immunotherapy [130].
4. Conclusions
In summary, re-examination of experimental findings cited by proponents of neo- oogenesis in mammals as validating their hypothesis leads to alternative interpretations drawn from published literature, which are entirely consistent with the long-standing orthodoxy of a determinate oocyte reserve [1]. By comparing those studies collectively advocating neo- oogenesis, recurrent themes emerge.
Firstly, several studies used as starting material ovaries from mice either termed 'juvenile' [7] or specified as day 5 [10] or days 2-5 postnatal [11], to locate mitotic germline stem cells within the OSE. This may represent an injudicious choice as the neonatal period between birth and day 5 postnatal is one of flux for mouse ovarian germ cells: at this time, ovarian cyst breakdown occurs concomitantly with a high rate of oocyte attrition, while meiotic progression continues in other oocytes towards diplotene with formation of primordial follicles [41]. That the majority of oocytes attain diplotene only by day 5 postnatal signifies that meiotic DNA recombination and repair may still be ongoing in tardy oocytes, which phenomenon is argued to underlie the observation of BrdU incorporation into germ cells, as well as apparent mtDNA synthesis (section 2.(i)). (Regarding BrdU incorporation by germ cells in adult ovaries [10], the precise extent of DNA recombination/repair in oocytes at later stages is unknown.) Added to this, oocytes that are defective or delayed may be actively extruded from the OSE [45] (and see section 2.(i)). In short, the aforementioned studies involving in situ anti-BrdU immunocytochemical analyses of germ cells at the surface of the neonatal ovary [7, 10, 11] may have captured these dynamic processes, rather than mitotic replication of germline stem cells. Crucially, in the neonatal ovary a significant proportion (~10%) of germ cells persist in germline cysts [33], which are posited here to provide the founding cell type for the FGSC lines of Zou et al. [10], and to be a likely component of the cultures produced by Pacchiarotti et al. [11]. The potential involvement of oogonia in those cultures of putative germline stem cells is a second recurring theme.
A third theme is misidentification of somatic cell types as germ cells (section 2.(ii)). It is inferred that cultures of putative germline stem cells derived from mouse ovaries [8, 9, 11] were confounded by the presence of somatic cells, from cell morphology and gene expression patterns. In some cases cell lines were identifiable as regenerative ovarian epithelium [9, 11]. This cautions against reliance on presumed germ-cell specificity of markers for stem-cell validation, and emphasises the need for recognition of OSE as a complex and multipotent tissue [52]. Concerns for cellular misidentification extend also to immune cells of the ovary, and specifically macrophages, which are suggested instead to constitute those structures described as de novo oocytes provided by blood-borne precursors [12, 13, 15].
A fourth emerging theme is that detailed consideration of the c-kit/SCF signaling pathway in germ cells, in the light of data presented [7, 10], countermands the existence of neo-oogenesis and female germline stem cells. Much has been made of the sterilising effects of BU treatment in female mice as proving the existence of germline stem cells in the ovary [7, 12, 15]; but section 2.(iii) provides arguments directly contradicting statements by Tilly et al. [15] that BU targets only replicative stem cells, and not primordial or later follicles. Data from spermatogenic and haematopoietic systems, where the respective stem cells are refractory to the effects of this agent, indicate that abrogation of c-kit function is central to its mechanism of toxicity [81]. This both predicts and explains the observed, devastating effects of BU on folliculogenesis, from primordial to later stages, where both germ and somatic cells depend on functional c-kit/SCF signaling for survival. Observations that BU dosages causing transient myelosuppression [87] produce irreversible sterility in female mice [7, 80] are therefore consistent with a fixed oocyte reserve, without a stem cell compartment, and without replenishment from bone marrow-derived precursors. Furthermore, the proliferating FGSC of Zou et al. [10] lack c-kit expression, and therefore would be refractory to BU treatment in vivo. That fertility is not restored with time following BU treatment in female mice [7, 80], as it is in male mice [81, 82], argues against this population occupying a facultative stem cell niche in vivo, as was proposed previously [25, 26].
The FGSC lines of Zou et al. [10] were equated to cultures of oogonia, from cell morphology, patterns of gene expression, functionality as oocyte precursors following transplantation to ovaries, and by comparison with previous studies. This cell type may further reinforce the functional equivalence of premeiotic male and female germ cells [124, 147]; in this case with respect to growth requirements for proliferation in culture, as conditions for FGSC culture were optimised previously for SSC [10, 148]. Historically, efforts were directed towards isolation of EG cells from PGC, which transformation can be achieved in germ cells isolated up to day 12.5 p.c. [3]. Therefore, the experimental utility of oogonia, so well exemplified by the work of Zou et al. [10], may have been overlooked in the pursuit of EG cells, until now.
Finally, an explanation was offered for the observed restoration of fertility in CT treated mice by BMT that is entirely in keeping with the orthodox theory of a fixed oocyte reserve [1], rather than neo-oogenesis: i.e., by regulation of autoimmunity, and not by the supply of blood-borne oocyte precursors. The clinical importance of conserving fertility in women undergoing CT gives urgency to the resolution of this ongoing controversy.
Abbreviations
AOD:

autoimmune ovarian disease
BMT:

bone marrow transplantation
BrdU:

5-bromo-2-deoxyuridine
BU:

busulphan
CT:

chemotherapy
CY:

cyclophosphamide
EGFP:

enhanced green fluorescent protein
EG:

embryonic germ (cell)
ES:

embryonic stem (cell)
FGSC:

female germline stem cells
HSC:

haematopoietic stem cells
i.p.:

intra-peritoneal (injection)
MVH:

mouse VASA homologue
mtDNA:

mitochondrial DNA
nDNA:

nuclear DNA
NOD:

non-obese diabetic
OSE:

ovarian surface epithelium
PBCT:

peripheral blood cell transplantation
PGC:

primordial germ cell
SSC:

spermatogonial stem cells
T1D:

type 1 diabetes
wt:

wild type
ZP:

zona pellucida.
Declarations
Acknowledgements
The author is much indebted to Robert M. Moor for inspiring this article, and for his unstinting support and expert advice; and to Roger G. Gosden and Rus Hoelzel for their critical appraisal of the manuscript and most helpful suggestions. This article is dedicated to the memory of H. B. F. Dixon.
Authors' Affiliations
(1)
Department of Biological & Biomedical Sciences, Durham University, Durham, UK
Copyright
© Notarianni; licensee BioMed Central Ltd. 2011
This article is published under license to BioMed Central Ltd. This is an Open Access article distributed under the terms of the Creative Commons Attribution License (http://creativecommons.org/licenses/by/2.0), which permits unrestricted use, distribution, and reproduction in any medium, provided the original work is properly cited.