Role of nerve growth factor and its TRKA receptor in normal ovarian and epithelial ovarian cancer angiogenesis
Journal of Ovarian Research
2014
7:82
Received: 26 May 2014
Accepted: 6 August 2014
Published: 10 August 2014
Abstract
In normal ovarian function a controlled angiogenesis is essential. Several growth factors are involved in this process, such as the vascular endothelial growth factor (VEGF) and nerve growth factor (NGF). The angiogenesis process in the normal ovary is a tightly controlled process that occurs in each ovarian cycle. Also, angiogenesis is critical for ovarian cancer development and it is responsible for tumor spread, metastasis and its peritoneal dissemination. Ovarian cancer is the fifth leading cause of cancer death in women and it is distinguished as the most lethal gynecologic cancer. In recent years angiogenesis has been given considerable attention in order to identify targets for developing effective anti-tumor therapies. Several molecules have been reported to promote angiogenesis, such as platelet-derived growth factor (PDGF) and its receptors, the angiopoietin/Tie ligand/receptor system and fibroblast growth factor (FGF). Primarily, VEGF has been identified to play key roles in driving angiogenesis. The above-mentioned molecules are candidate drug targets. Used in combination with other treatments, anti-angiogenic therapies have managed to reduce disease progression. The present review is focused in NGF and its high affinity receptor tyrosine kinase A (TRKA). The expression of VEGF, proliferation and the angiogenesis process in ovarian cancer is importantly induced by NGF, among other molecules.
Keywords
AngiogenesisVascular endothelial growth factorNerve growth factorTRKANormal ovaryEpithelial ovarian cancer
Introduction
The ovary is one of the few adult organs that undergo angiogenesis at regular intervals. In ovarian cancer, disturbances in the angiogenic process are a key factor in its development and subsequent progression [1]. Ovarian cancer is the most lethal gynecological cancer; it remains with a low survival rate [2], and therefore, understanding the mechanisms governing angiogenesis is important in order to develop new strategies for its treatment. Neurotrophins have been shown to be involved in both normal ovarian and ovarian cancer angiogenesis [3],[4]; thus, targeting their signaling signifies a novel therapeutic opportunity.
Neurotrophins and their receptors are involved in mammalian ovarian development [5],[6]. Besides, in the normal human ovary, the neurotrophin nerve growth factor (NGF) and its high affinity tyrosine kinase receptor (TRKA) are expressed in granulosa cells [7], and through the activation of TRKA, NGF induces an increase in the vascular endothelial growth factor (VEGF) expression [8]. In human epithelial ovarian cancer (EOC) cells, NGF and TRKA are also expressed [8], and the active form of TRKA has been associated with poor patient outcome [9]. This review will focus on our research efforts regarding the connection between NGF, TRKA and VEGF, and how these molecules have a relevant role in ovarian cancer progression. We will discuss how NGF and TRKA are involved in angiogenesis, cell proliferation and progression of EOC.
Conclusion
Neurotrophins were first discovered in the brain, and their signaling pathways have mostly been studied in neurons. However, NGF has several functions outside the nervous system, including important roles in the development and normal functioning of the ovary. Besides, the TRKA signaling pathway due to NGF stimulation has been linked to cancer before. A deregulation in NGF signaling has been shown to promote proliferation, migration, angiogenesis and metastasis in different cancers, including breast cancer, melanoma and pancreatic cancer.
The data summarized above demonstrates that when NGF activates its high affinity receptor TRKA in human granulosa cells of normal ovary and in epithelial cells from EOC, it acts as an indirect angiogenic factor by increasing VEGF expression and also as a direct angiogenic factor by activating TRKA in endothelial cells, therefore increasing angiogenesis in EOC (Figure
2
). Additionally, the above-described results enable us to conjecture that both NGF as well as TRKA receptor expression in normal OSE might be early events in EOC tumorigenesis and angiogenesis, giving us a better understanding in the function of neurotrophins in human carcinoma.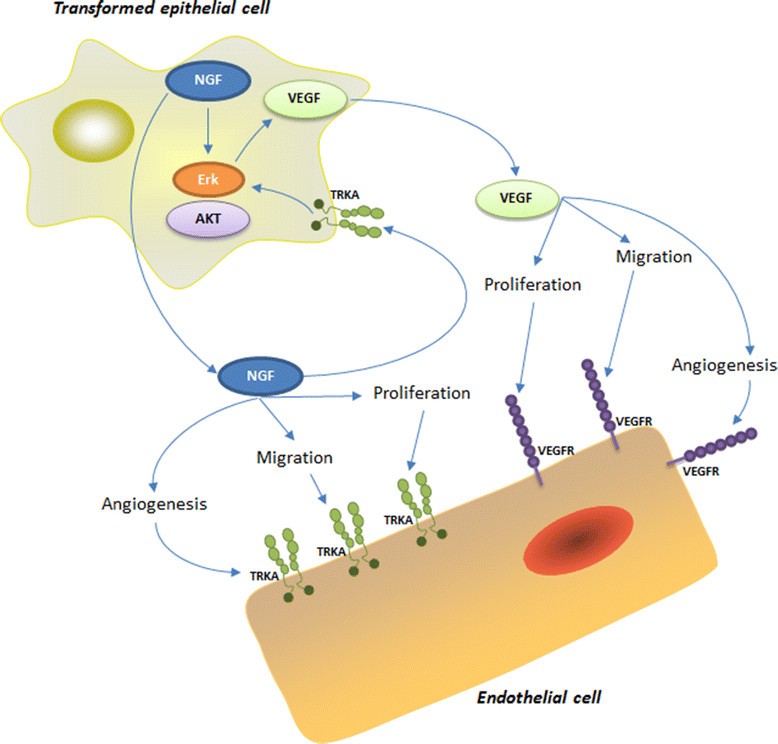 In the future, studies should focus on NGF levels on ovarian cancer patients, and its correlation with prognosis. Also, TRKA, the active TRKA form and NGF levels should be contrasted with survival after the current available therapies. Targeting the NGF-TRKA pathway could offer new approaches to the therapy of ovarian cancer, and it could be complementary to therapies that target VEGF. Also, further study is needed to elucidate if the relationship between angiogenesis, NGF, TRKA and VEGF is also present in other types of cancer.
Abbreviations
Ang:

Angiopoietin
BAX:

BCL2-associated X protein
BCL2:

B-Cell CLL/Lymphoma 2
BDNF:

Brain-derived neurotrophic factor
EOC:

Epithelial ovarian cancer
ERK:

Extracellular signal-regulated kinase
FGF:

Fibroblast growth factor
FGFR:

Fibroblast growth factor receptor
FOXL2:

Forkhead box L2
FSH:

Follicular stimulating hormone
HOSE:

Human ovarian surface epithelium
LH:

Luteinizing hormone
MAPK:

Mitogen-activated protein kinase
NGF:

Nerve growth factor
OSE:

Ovarian surface epithelium
PDGF:

Platelet-derived growth factor
PDGFR:

Platelet-derived growth factor receptor
PGE2:

E2 prostaglandins
PI3K:

Phosphatidylinositol 3-kinase
TRKA:

Tyrosine receptor kinase A
VEGF:

Vascular endothelial growth factor
Declarations
Acknowledgements
This work has been supported by Grants Fondo Nacional de Ciencia y Tecnologia (Fondecyt #1030661, #1071036 and #1110372 to CR) and Conicyt-Fondap # 15130011. Thanks to Dr. Alberto Selman and Dr. Fernando Gabler for their clinical collaboration in this work.
Authors' Affiliations
(1)
Laboratorio de Endocrinología y Biología Reproductiva, Hospital Clínico Universidad de Chile, Santiago, Chile
(2)
Departamento de Obstetricia y Ginecología, Facultad de Medicina, Universidad de Chile, Santiago, Chile
(3)
Advanced Center for Chronic Diseases (ACCDiS), Santiago, Chile
Copyright
© Vera et al.; licensee BioMed Central Ltd 2014
This article is published under license to BioMed Central Ltd. This is an Open Access article distributed under the terms of the Creative Commons Attribution License (http://creativecommons.org/licenses/by/4.0), which permits unrestricted use, distribution, and reproduction in any medium, provided the original work is properly credited. The Creative Commons Public Domain Dedication waiver (http://creativecommons.org/publicdomain/zero/1.0/) applies to the data made available in this article, unless otherwise stated.