The molecular mechanism of ovarian granulosa cell tumors
Journal of Ovarian Research
2018
11:13
Received: 28 November 2017
Accepted: 30 January 2018
Published: 6 February 2018
Abstract
Over these years, more and more sex cord-stromal tumors have been reported. Granulosa cell tumor (GCT) is a rare tumor in ovaries, accounts for 2% to 5% of ovarian cancers. The main different feature of GCTs from other ovarian cancers is that GCTs can lead to abnormally secreted hormones (estrogen, inhibin and Müllerian inhibiting substance). The GCT is divided into two categories according to the age of patients, namely AGCT (adult granulosa cell tumor) and JGCT (Juvenile granulosa cell tumor). AGCT patients accounts for 95%. Although the pathogenesis is not clear, FOXL2 (Forkhead box L2) mutation was considered as the most critical factor in AGCT development. The current treatment is dominated by surgery. Target therapy remains in the adjuvant therapy stage, such as hormone therapy. During these years, other pathogenic factors were also explored, such as PI3K/AKT (phosphatidylinositol-3-kinase; serine/threonine kinase), TGF-β (Transforming growth factor beta) signaling pathway, Notch signaling pathway, GATA4 and VEGF (vascular endothelial growth factor). These factors and signaling pathway play important roles in GCT cell proliferation, apoptosis, or angiogenesis. The purpose of this review is to summarize the possible pathogenic factors and signaling pathways, which may shed lights on developing potential therapeutic targets for GCT.
Keywords
GCTFOXL2PI3K/AKT signalingTGF-β signalingNotch signaling
Background
Granulosa cell tumor (GCT) is the most common sex cord-stromal tumor that stem from granulosa cells. GCT accounts for 2% to 5% of all ovarian cancers and can be divided into two subtypes according to the differences of the age of patients, clinical and histopathologic features [1]. About 95% of GCT belong to the adult granulosa cell tumors (AGCTs), and others are juvenile granulosa cell tumors (JGCTs). JGCT only occurs in people who are younger than 30 years old with the features of hypoestrogenism and abnormal abdominal mass [2, 3]. Clinical features of AGCT include abnormal uterine bleeding in postmenopausal patients and menometrorrhagia in youngers. Some reports also indicated that patients were with stopping ovulating symptom [4]. The incidence of GCT is around 0.47 to 1.6 per 100,000. The main risk factors of GCT include nulliparity, fatness, oral contraceptives and family cancer history. From the cancer databases in Finland, Iceland, Norway and Sweden, the GCT onset showed scattered feature. There was no increasing trend over the 60 years [5]. Abnormal cell cycle is related to the occurrence and development of cancers. The recent studies provided powerful evidences that fork head box protein L2 (FOXL2), PI3K/AKT signaling pathway, TGF-β signaling pathway, Notch signaling pathway and etc. were involved in granulosa cell tumor through influencing cell proliferation and apoptosis [6–10].
In the development of GCT, a variety of cell signaling pathways, such as TGF-β, Notch and PI3K/AKT, are involved. In fact, these signal pathways are not isolated, but make up a complex network and contribute to the formation and development of GCT. FOXL2 is the most important mutant gene in GCT formation. Studies showed that FOXL2 is involved in the TGF-β pathway. For example, FOXL2 mutation has negative effect on SMAD3 (drosophila mothers against decapentaplegic protein) activation by interacting with BMPs, follistatin and activin A [11]. FOXO1/3 (forkhead box O1/3) also inhibited SMAD3 [12]. The interaction between Notch signaling and PI3K/AKT were also proved [13]. In the following sections, we will summarize the influence of different cell signaling network on GCT.
Conclusion
GCT incidence of ovarian cancer accounts for about 2% to 5%, while the prognosis is usually better. Five-year survival rate is up to 90%. High recurrent rate is the most critical factor for GCT death. At present, the most important problem lies in the early diagnosis and prevention of recurrence. FOXL2 mutation is the main cause of GCT, while other factors also contributed to it, such as GATA4, SMAD, VEGF, PI3K/AKT, AMH and TGF-β.The \treatment for GCT includes surgery, radiotherapy, chemotherapy and hormone therapy. Studies showed that hormones play a critical role in the pathogenesis and treatment of GCT, especially in some ineffective cases for radiotherapy and chemotherapy. However, the serious adverse effects were followed. New treatment strategies need to be explored. The employment of anti-VEGFA antibody in mouse model successfully slowed the tumor development through inhibiting the tumor cell proliferation [
96
]. Other studies also demonstrated anti-VEGF (or VEGFR) had conspicuous function in inhibiting GCT development [
97
,
98
]. As for chemotherapy, drug targeting in critical signaling pathways can increase efficiency. Chemokine (C-C motif) ligand 5 (CCL5) can reduce the toxic of cisplatin by increasing AKT phosphorylation level [
99
,
100
]. GLS (glutaminase) is the key metabolic enzymes of glutaminolysis, which is highly expression in tumors. The inhibition of GLS1 leaded to decreased expression of phosphorylated STAT3, which provided an idea in overcoming the resistance of PI3K inhibitor [
100
,
101
]. Targeted therapy for signaling pathways can effectively prevent the recurrence of GCT and reduce the resistance of chemotherapeutic drugs. Many studies have shown that GCT-related signaling pathways and pathogenic genes are closely linked, and the link between these signaling pathways is unclear. As shown in Fig.
1
, we summarized these related signaling pathways network. Certainly, surgery is still the most important treatment. Targeting drugs for signal pathway in the subsequent chemotherapy can significantly improve the survival rate of patients. Future research should further focus on exploring the molecular mechanisms of GCT and developing targeted medicines. Prevention of recurrence of GCT will significantly improve patient survival.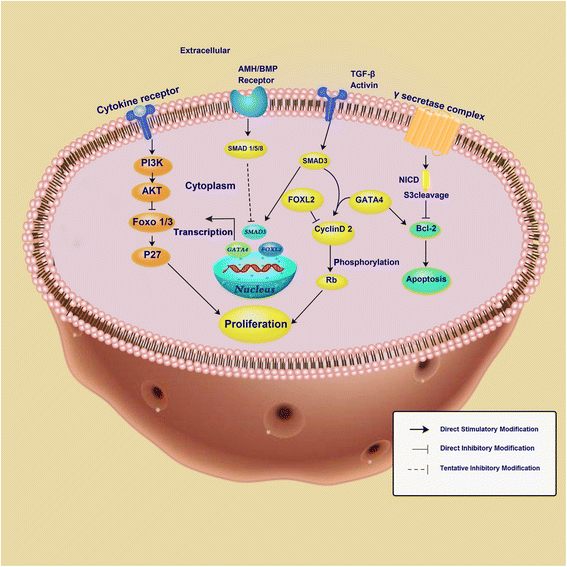 Abbreviations
AGCT:

Adult granulosa cell tumor
AKT:

Serine/threonine kinase
AMH:

Anti-Mullerian hormone
Bcl-2:

B-cell lymphoma 2
BMP:

Bone morphogenetic protein
DLL1:

Delta-like-1
DLL3:

Delta-like-3
DLL4:

Delta-like-4
FOXL2:

Forkhead box L2
FOXO 1/3:

Forkhead box O1/3
GCT:

Granulosa cell tumor
GLS:

Glutaminase
INHA:

Inhibin α-subunit
JGCT:

Juvenile granulosa cell tumor
PI3K:

Phosphatidylinositol-3-kinase
PTEN:

Phosphatase and tensin homolog deleted on chromosome ten
Rb:

Retinoblastoma protein
SMAD:

Drosophila mothers against decapentaplegic protein
TGF-β:

Transforming growth factor beta
VEGF:

Vascular endothelial growth factor
Declarations
Acknowledgements
Not applicable.
Funding
This study was supported by National Natural Science Foundation of China (81601242) and Natural Science Foundation of Jiangxi province (20161BAB215199).
Availability of data and materials
Not applicable (review article).
Authors' contributions
JL executed and drafted the manuscript, RB and SP made critical discussion about the study. CZ designed the study. All authors read and approved the final manuscript.
Ethics approval and consent to participate
Not applicable (review article).
Consent for publication
Not applicable.
Competing interests
The authors declare that they have no competing interests.
Publisher's Note
Springer Nature remains neutral with regard to jurisdictional claims in published maps and institutional affiliations.
Open AccessThis article is distributed under the terms of the Creative Commons Attribution 4.0 International License (http://creativecommons.org/licenses/by/4.0/), which permits unrestricted use, distribution, and reproduction in any medium, provided you give appropriate credit to the original author(s) and the source, provide a link to the Creative Commons license, and indicate if changes were made. The Creative Commons Public Domain Dedication waiver (http://creativecommons.org/publicdomain/zero/1.0/) applies to the data made available in this article, unless otherwise stated.
Authors' Affiliations
(1)
Joint programme of Nanchang University and Queen Mary University of London, Nanchang, China
(2)
Department of Gynecology and Obstetrics, Jiangxi Provincial People's Hospital, Nanchang, China
(3)
Department of Cell Biology, School of Medicine, Nanchang University, Nanchang, People's Republic of China