Ovarian cancer: emerging concept on cancer stem cells
Journal of Ovarian Research
2008
1:4
Received: 23 August 2008
Accepted: 12 October 2008
Published: 12 October 2008
Abstract
Emerging evidence suggests that the capacity of a tumor to grow and propagate is dependent on a small subset of cells within a tumor, termed cancer stem cells. In fact, cancer cells, like stem cells, can proliferate indefinitely through a dysregulated cellular self-renewal capacity. Cancer stem cells may originate due to the distribution into self-renewal and differentiation pathways occurring in multi-potential stem cells, tissue-specific stem cells, progenitor cells and cancer cells. Recent studies have shown that ovarian cancer also contains stem cells or tumor-initiating cells. Moreover, ovarian serous adenocarcinomas were disaggregated and subjected to growth conditions to select for self-renewing, non-adherent spheroids previously shown to be derived from tissue stem cells. A recent study showed that epithelial ovarian cancer was derived from a sub population of CD44+, CD117+ and CD133+ cells. The existence of cancer stem cells would explain why only a small minority of cancer cells is capable of extensive proliferation of the tumor. In this review, we have discussed the studies on ovarian cancer stem cells along with the molecular pathways that could be involved in these cancer stem cells.
Keywords
Stem CellOvarian CancerCancer Stem CellEpithelial Ovarian CancerSide Population
Introduction
Ovarian cancer is the fifth leading cause of cancer deaths and has the highest mortality rate among gynecologic cancers. It is the most lethal malignancy of the female reproductive system, at the initial stage the five-year survival rate is nearly 45%, which declines to 30% for patients with an advanced disease [1, 2]. Greater than 90% of ovarian cancers arise from the surface epithelium [3], and tumorigenesis has been associated with ovulation-associated wound repair and/or inflammation, possibly leading to abnormal stem cell expansion [3, 4]. Over the last several years, it has been increasingly evident that a small population (less than 5%) of cancer cells, referred to as "cancer stem cells (CSCs)", is responsible for the aggressiveness of the disease, metastasis and resistance to therapy [5–7]. Cancer stem cells, like somatic stem cells, are thought to be capable of self-renewal or unlimited proliferation [7]. The recent discovery that CSCs express certain 'stem cell-specific' markers has renewed interest and provided a rise in the idea that CSCs may arise from somatic stem/progenitor cells. Considerable research efforts have been directed toward the identification of cancer stem cell markers in ovarian cancer.
Stem cells, as classically defined, are cells with a capacity for self-renewal and generation of daughter cells that can differentiate into all the way down different cell lineages found in the mature tissue [8]. Stem cells always undergo asymmetric cell divisions, with each cell generating two cells; one that is identical to itself in stemness and another which is committed to a certain lineage. The daughter cell with stem cell like properties maintains its own compartment over time, while its sister cell undergoes a series of cell divisions [9]. Self-renewal allows stem cells to persist during the entire the lifetime of the organism, while their differentiation potential allows them to perform functions like tissue genesis, tissue maintenance, and regeneration following stress or injury [9].
Of all the types of stem cell, hematopoietic stem cells (HSCs) are the best characterized adult stem cell [10]. HSCs can differentiate to form mature blood cells but can also reproduce themselves, which is known as self-renewal [10]. It is reside in distinct stem-cell niches that vary in location depending on the developmental stages of organism [11]. The human HSCs express high level of CD34 and low or absent level of CD33, CD38, thy-1, and CD71, appears to be enriched for primitive progenitor and HSC activity, while more mature progenitors express one or more of these markers [12]. Furthermore, in therapeutic target hematopoietic stem cells are the only stem cells developed up to therapy for the cancer and other disorders for the blood [11] and following HSC study for other stem cells will lead to improve therapy for other cancers.
Cancer stem cells may arise following transforming mutations that occur in untransformed stem cells, progenitor cells, mature cells, and cancer cells. The genetic program controlling self-renewal and differentiation plays a key role in the genesis of cancer stem cells (Figure
1
). Cancer stem cells (CSCs) have been demonstrated to have roles in several cancers, including cancers of the ovaries, breast, brain, prostate, pancreatic, hepatocellular, head and neck cancers and hematological malignancies [
5
–
7
,
13
–
27
]. According to the CSC model, only a specific subset of the cancer cell population (i.e., the long-lived CSC subset) should be able to sustain
in vivo
tumor growth, whereas all other subsets (i.e., the tumor counterparts of short-lived differentiated cells) should not. Indeed, this assumption has now been repeatedly confirmed in several tumor systems. Three key observations classically define the existence of a CSC population: (i) Only the minority of cancer cells within each tumor are usually endowed with tumorigenic potential when transplanted into immunodeficient mice; (ii) Tumorigenic cancer cells are characterized by a distinctive profile of surface markers and can be differentially and reproducibly isolated from non-tumorigenic ones by flow cytometry or other immunoselection procedures; and (iii) Tumors grown from tumorigenic cells contain mixed populations of tumorigenic and non-tumorigenic cancer cells, thus recreating the full phenotypic heterogeneity of the parent tumor [
28
]. Furthermore, recent studies have been shown the functions of normal and malignant stem/progenitor cells in tissue regeneration, cancer progression and targeting therapies [
29
,
30
]. In this review we aim to provide insight into the evaluation of the evidence that supports the existence of cancer stem cells and the characterization studies that have tried to identify ovarian cancer stem cells. We also discuss how taking this subpopulation of cells into account may affect the way we treat ovarian cancers in the future.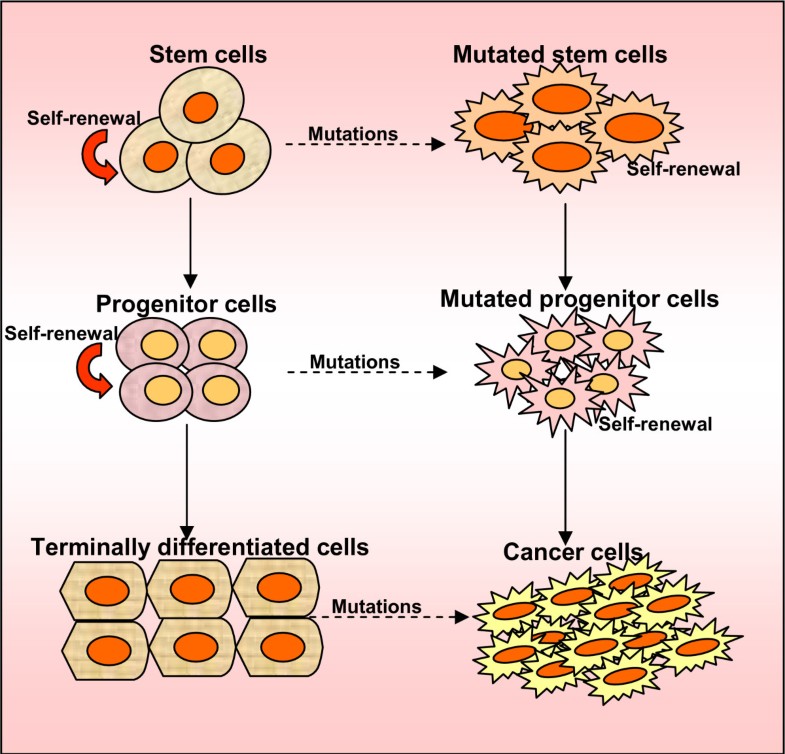 Conclusion and perspective
The aforementioned studies showed that a so-called ovarian cancer stem cell, with high-proliferative capacity, self-renewal properties and multi-lineage potential, could be responsible for tumor development and the differentiation of more mature epithelial ovarian cells contributing to tumorigenesis. There are important consequences for cancer treatment if the growth of tumors is at least in part, dependent on a cancer stem cell population. The cancer stem cell hypothesis posits that cancer stem cells are a minor population of self-renewing cancer cells that fuel tumor growth and remain in patients after conventional therapy has been completed. The hypothesis predicts that effective tumor eradication will require obtaining agents that can target cancer stem cells while sparing normal stem cells. Experimental evidence suggests that ovarian cancer stem cells are relatively resistant to conventional chemotherapeutic agents. Current cancer therapies often engender severe toxicity because of their general effects on all rapidly dividing cells. Identification of candidate targets for more specific mechanism-based cancer therapy using techniques such as gene chips could reveal signature patterns of transcriptional output which are characteristic of activated self-renewal pathways.
Emerging evidence suggests that these pathways also control patterning and growth in self-renewing adult tissues by regulating the stem-cell compartment. Thus, pharmacological inhibition of these pathways in the worst case might result in severe toxicity due to a loss of normal stem-cell compartments. Further research will be needed to determine whether continuous pathway activity is required in normal and tumor tissues, and whether these requirements differ sufficiently as to allow therapeutic intervention. Even if pathway inhibition is prohibited by normal physiological requirements, other mechanism-based approaches that exploit aberrant pathway activation might be feasible. It has been proposed that malignancy is determined in all tissues by mis-regulation of a common set of genes that control growth by affecting cell proliferation, apoptosis, invasion and angiogenesis. This hypothesis is supported by the demonstration that multiple types of normal human cells can be made tumorigenic by the expression of a defined set of viral and cellular proteins. Therapeutic agents for the treatment of such tumors might target not only self-renewal pathway components, but also other critical transcriptional targets of the self-renewal pathways, or proteins that co-operate with them to deregulate growth.
It is important that agents directed against cancer stem cells discriminate between cancer stem cells and normal stem cells. This will require the identification of realistic drug targets unique to cancer stem cells. The identification of such targets and the development of anti-cancer agents will require a deeper understanding of normal stem cell biology as well as cancer biology. More importantly, identification of the ovarian cancer stem cell would provide a critical step in advancing the development of novel therapeutic strategies in the management of ovarian cancer. Furthermore, characterizations of such progenitor or cancer stem cells in drug resistant (Ciaplatin, Paclitaxel and etc) manner for ovarian cancer will likely lead to a greater understanding of early events leading to the genesis of this elusive disease, in addition to providing new therapeutics targets aimed at the cells directly responsible for its propagation.
Abbreviations
CSC:

Cancer Stem Cell
CNS:

Central Nervous System
ESA:

Epithelial-Specific Antigen
Shh:

Sonic Hedgehog
Hh:

Hedgehog
EOC:

Epithelial ovarian Cancer
OCIC:

Ovarian Cancer Initiating Cells
SP:

Side Population
Declarations
Acknowledgements
The authors thank Kristi L.W. Berger (Eppley Institute) for editorial assistance. The authors on this article were supported by grants from the U.S. Department of Defense (OC04110) and National Institutes of Health (RO1 CA78590, CA 131944 and CA133774).
Authors' Affiliations
(1)
Department of Biochemistry and Molecular Biology, University of Nebraska Medical Center, Omaha, USA
(2)
Eppley Institute for Research in Cancer and Allied Diseases, University of Nebraska Medical Center, Omaha, USA
Copyright
© Ponnusamy and Batra; licensee BioMed Central Ltd. 2008
This article is published under license to BioMed Central Ltd. This is an Open Access article distributed under the terms of the Creative Commons Attribution License (http://creativecommons.org/licenses/by/2.0), which permits unrestricted use, distribution, and reproduction in any medium, provided the original work is properly cited.