Safe and targeted anticancer therapy for ovarian cancer using a novel class of curcumin analogs
Journal of Ovarian Research
2013
6:35
Received: 8 February 2013
Accepted: 1 May 2013
Published: 11 May 2013
Abstract
A diagnosis of advanced ovarian cancer is the beginning of a long and arduous journey for a patient. Worldwide, approximately half of the individuals undergoing therapy for advanced cancer will succumb to the disease, or consequences of treatment. Well-known and widely-used chemotherapeutic agents such as cisplatin, paclitaxel, 5-fluorouracil, and doxorubicin are toxic to both cancer and non-cancerous cells, and have debilitating side effects Therefore, development of new targeted anticancer therapies that can selectively kill cancer cells while sparing the surrounding healthy tissues is essential to develop more effective therapies. We have developed a new class of synthetic curcumin analogs, diarylidenyl-piperidones (DAPs), which have higher anticancer activity and enhanced bio-absorption than curcumin. The DAP backbone structure exhibits cytotoxic (anticancer) activity, whereas the N-hydroxypyrroline (-NOH) moiety found on some variants functions as a cellular- or tissue-specific modulator (antioxidant) of cytotoxicity. The anticancer activity of the DAPs has been evaluated using a number of ovarian cancer cell lines, and the safety has been evaluated in a number of non-cancerous cell lines. Both variations of the DAP compounds showed similar levels of cell death in ovarian cancer cells, however the compounds with the -NOH modification were less toxic to non-cancerous cells. The selective cytotoxicity of the DAP–NOH compounds suggests that they will be useful as safe and effective anticancer agents. This article reviews some of the key findings of our work with the DAP compounds, and compares this to some of the targeted therapies currently used in ovarian cancer therapy.
Keywords
Ovarian cancerTargeted therapySTAT3Curcumin analogCurcumin
Introduction
"Targeted therapy" is a relatively modern term that is commonly used to describe new drugs that are specifically designed to take advantage of known molecular pathways involved in the pathophysiology to be treated. Targeted therapies include small molecules and monoclonal antibodies. A number of new small molecules and immunotherapeutic agents for cancer treatment are currently in clinical trials or in advanced development phase. This review will focus on our research efforts, specifically diarylidienyl piperidone (DAP) analogs, in the development of new targeted agents for the treatment of ovarian and other solid tumors. We will highlight the selective cytotoxicity of these agents toward cancer cells, sparing the surrounding healthy tissues. We will discuss the current challenges of ovarian cancer drug discovery, and finally identify the potential future of targeted therapy for ovarian cancer.
Understanding the molecular targets of DAPS in ovarian cancer
Recent evidence suggests that curcumin analogs have a wide range of molecular targets, which supports the notion that curcumin analogs influence numerous biological and molecular cascades [45, 100]. Included among the DAP molecular targets are transcription factors, growth factors and their receptors, and genes regulating cell proliferation and apoptosis. We have shown that the DAP compounds target the signal transducer and activator of transcription 3 (STAT3) signaling pathways in various cancer cells when compared to other pro-oncogenic signaling pathways [64, 70].
Conclusion & future direction
The diagnosis of an advanced cancer, such as ovarian, means multi-modality therapy for most patients, which typically includes chemotherapy. Unfortunately, most chemotherapy is toxic not only to tumors, but also to healthy tissue. This adversely impacts quality of life both during and after therapy. In addition, most ovarian cancer patients will ultimately recur, and die of their disease. Current cancer research focuses on developing new therapies to both improve survival and decrease toxicity. Given the anti-cancer properties of curcumin we have focused on developing compounds based that are not restricted by poor bioavailability, limited solubility, and low potency. One of these compounds DAP-F(p)-NOH shows promise not only in its toxicity toward cancer cells through a variety of mechanisms, but also its protection of healthy tissue. We show that the –NOH moiety provides an antioxidant protection to healthy cells minimizing damage to normal tissues in vivo. The cytotoxicity is mediated through the STAT3 and FAS/FAK signaling pathways (Figure
2
).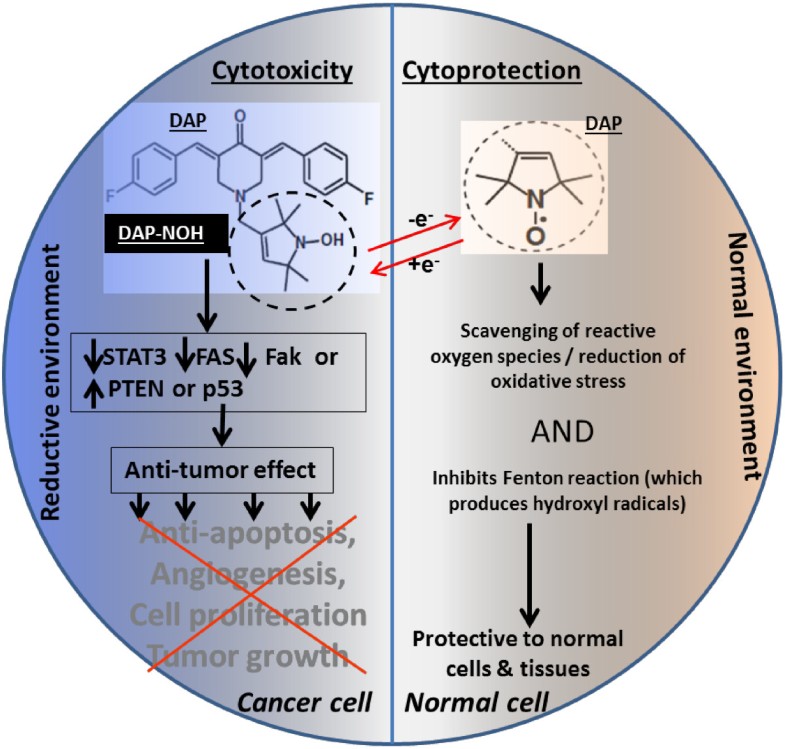 While much has been learned from the collective work involving curcumin derivatives and DAP compounds in particular, it is clear that many questions are left unanswered. In the future, it will be critical to expand the existing knowledge of the mechanism of action of DAP compounds; in particular the other cancer-promoting pathways on which it may act. Additional in silico studies may be conducted to optimize the structure of the DAP compounds with the intent of maximizing interaction with known and future molecular targets. Further in vivo work is needed with head-to-head comparisons of DAP compounds against both standard chemotherapies and targeted agents as progress is made toward possible clinical trials. Because of the complexity and variety of cancers found in the modern world, the idea of a "silver bullet" treatment or cure is unlikely to be found. However, the continued development of new therapies such as those described here will lead to improved survival and quality of life for cancer patients.
Declarations
Acknowledgment
This work was supported by a grant from the Ovarian Cancer Research Foundation (OCRF) - (K.S.)
Authors' Affiliations
(1)
Division of Gynecologic Oncology, Department of Obstetrics and Gynecology, The Ohio State University, Columbus, USA
(2)
Department of Internal Medicine, The Ohio State University, Columbus, USA
Copyright
© Rath et al.; licensee BioMed Central Ltd. 2013
This article is published under license to BioMed Central Ltd. This is an Open Access article distributed under the terms of the Creative Commons Attribution License (http://creativecommons.org/licenses/by/2.0), which permits unrestricted use, distribution, and reproduction in any medium, provided the original work is properly cited.