DNA damage repair in ovarian cancer: unlocking the heterogeneity
Journal of Ovarian Research
2018
11:50
Received: 16 November 2017
Accepted: 8 June 2018
Published: 20 June 2018
Abstract
Treatment for advanced ovarian cancer is rarely curative; three quarters of patients with advanced disease relapse and ultimately die with resistant disease. Improving patient outcomes will require the introduction of new treatments and better patient selection. Abrogations in the DNA damage response (DDR) may allow such stratifications.
A defective DNA-damage response (DDR) is a defining hallmark of high grade serous ovarian cancer (HGSOC). Indeed, current evidence indicates that all HGSOCs harbour a defect in at least one major DDR pathway. However, defective DDR is not mediated through a single mechanism but rather results from a variety of (epi)genetic lesions affecting one or more of the five major DNA repair pathways. Understanding the relationship between these pathways and how these are abrogated will be necessary in order to facilitate appropriate selection of both existing and novel agents.
Here we review the current understanding of the DDR with regard to ovarian, and particularly high grade serous, cancer, with reference to existing and emerging treatments as appropriate.
Keywords
Non-homologous end joiningHomologous recombinationNucleotide excision repairBase excision repairMismatch repairOvarian cancer
Background
Epithelial ovarian cancer is not one homogenous disease, but a collection of disparate cancers arising from different tissues, including the fallopian tube and the ovary, each of which represents a very different biological entity. Current evidence suggests five major subtypes of epithelial ovarian cancer, namely, high grade serous, low grade serous, endometrioid, clear cell and mucinous cancers, of which high grade serous is the commonest.
Teasing out the heterogeneity between these types is of major importance but remains a challenge. Understanding is hampered by the relative lack of driver mutations and the massive genetic instability that characterises many forms of the disease and makes molecular profiling difficult.
Genomic and transcriptomic studies have managed to identify a limited number of driver mutations, restricted at present largely to p53 and BRCA1/2, but have grossly failed to identify predictive patterns that can be used to determine therapy. A notable exception is the identification of defective homologous recombination as a predictor of response to both platinum [1] and PARP inhibitor therapy [2].Building upon this, and using defects in other DNA damage repair (DDR) mechanisms as a stratification tool, has enormous potential. The inability to repair DNA damage is one of the hallmarks of the cancer cell, however rendering a cell defective in DNA damage repair is not mediated through a single process, rather it is conferred by a wide variety of genomic defects and this can result in differing sensitivities to conventional and novel chemotherapeutic agents.
In general, DNA damage results in either single strand or double strand breaks. Current understanding suggests that there are five mechanisms used by mammalian cells to identify and repair DNA damage. These are mismatch repair (MMR), base excision repair (BER), and nucleotide excision repair (NER) for single strand breaks and homologous recombination (HR) and non homologous end joining (NHEJ) for double strand breaks (see Fig.
1
). Single strand breaks may be repaired directly but if left unrepaired will result in a stalled replication fork. Replication stress is the term coined to describe the effects on the cell of a stalled replication fork. Replication stress should activate functional DNA checkpoint proteins to trigger the commencement of the double strand DNA repair pathways. However, in cancer cells the combination of a high replication rate and defective DNA repair mechanisms can lead instead to genomic instability. This is particularly the case in high grade serous ovarian cancer which is characterised by genomic instability. Given the high levels of genomic instability and subsequent chromosomal rearrangements which are tolerated by high grade serous cancer cells in particular, it is highly likely that at least one of these five pathways is dysfunctional in each cell (Table
1
).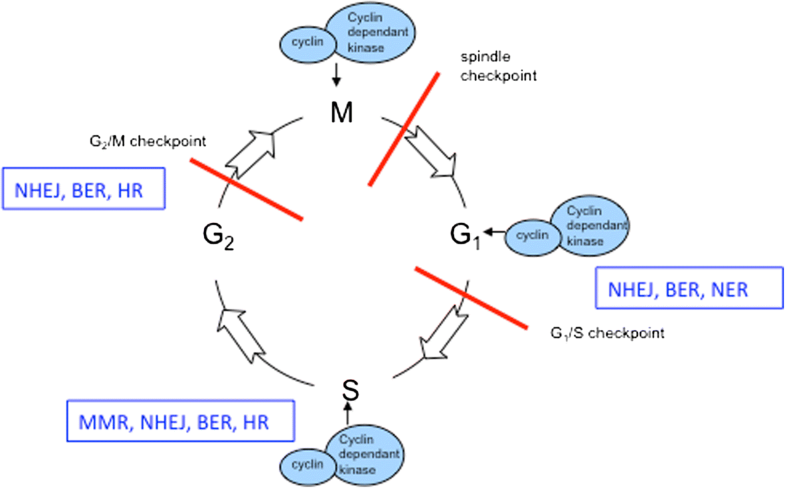 Table 1
The known contribution of defective DNA repair pathways to ovarian cancer
DNA repair pathway

Type of repair

Contribution to serous ovarian cancer

Contribution to all histological subtypes of ovarian cancer

Homologous Recombination

Double Strand Breaks

50% [4]

50%

Non Homologous Enjoining

Double Strand Breaks

Base Excision Repair

Nucleotide Excision and Single Strand Breaks

Polymorphisms and altered expression of BER components in 63–67% ovarian cancers [60, 91]

Mismatch Repair

Single Strand Breaks, Nucleotide Mismatches

0.18% [94]

0.76% [94], mostly clear cell

Nucleotide Excision Repair

Single Strand Breaks, Bulky Lesions

8%
Through the understanding of these DNA repair mechanisms, their interaction and how they may be defective in women with different subtypes of EOC, it may be possible to target chemotherapy to the molecular mechanisms underlying a cancer. Synthetic lethality is the term coined to describe the effect of the combination of two genetic alterations that are lethal to cells, but alone do not have a negative effect (reviewed by Kaelin [3]). Discovery of novel drugs which exploit synthetic lethality is one such way that the understanding of defective DNA repair mechanisms can advance the management of ovarian cancer.
Treatments exploit the exquisite balance of DNA damage in a cancer cell by either inducing further DNA damage, with which the cell's already impaired DNA capacity cannot cope, or by impairing the capacity of the DDR even further. Either strategy leads to catastrophic DNA damage causing cell death. The benefit of the latter approach in which DDR pathways are inhibited in the cell, is that it has little effect on normal cells which include many overlapping pathways that can cope with loss of a single pathway. Thus the toxicity of these targeted treatments is often more acceptable than conventional cytotoxic chemotherapy.
Here we review the current state of knowledge regarding the role of the various DNA repair pathways in ovarian cancer; using high grade serous cancer as the exemplar, but referring to the other subtypes where appropriate.
Conclusions
With the increasing realisation that ovarian cancer is not one disease, the increased use of molecular diagnostics, and the development of new targeted agents the ability to deliver personalised medicine for patients with ovarian cancer is perhaps finally on the horizon.
An understanding of the DNA damage repair pathways and how they are abrogated will allow the development of personalised treatment algorithms but as we have outlined here this is likely to be complex given the high degree of interaction, overlap and perhaps redundancy that is shown between the various pathways.
Declarations
Authors' contributions
MEG and RJE devised the review and carried out the literature search. ZF and AM provided comments and review. All authors approved the final manuscript.
Ethics approval and consent to participate
Not applicable.
Consent for publication
Not applicable.
Competing interests
The authors declare that they have no competing interests.
Publisher's Note
Springer Nature remains neutral with regard to jurisdictional claims in published maps and institutional affiliations.
Open AccessThis article is distributed under the terms of the Creative Commons Attribution 4.0 International License (http://creativecommons.org/licenses/by/4.0/), which permits unrestricted use, distribution, and reproduction in any medium, provided you give appropriate credit to the original author(s) and the source, provide a link to the Creative Commons license, and indicate if changes were made. The Creative Commons Public Domain Dedication waiver (http://creativecommons.org/publicdomain/zero/1.0/) applies to the data made available in this article, unless otherwise stated.
Authors' Affiliations
(1)
Division of Cancer Sciences, Faculty of Biology, Medicine and Health, University of Manchester, St Mary's Hospital, Manchester, UK
(2)
Department of Obstetrics and Gynaecology, Manchester Academic Health Science Centre, St Mary's Hospital, Central Manchester NHS Foundation Trust, Manchester Academic Health Science Centre, Manchester, UK
(3)
Northern Institute for Cancer Research, Newcastle University, Framlington Place, Newcastle upon Tyne, UK